Live Demo
Note: This Tableau report displays plant data between 2019-01-01 and 2019-03-31.
1.2 API Overview
To make a successful API call, the following 3 items are required:
An bearer token to authorize the API call
An Web Data Connector as Data Source
An API endpoint with query parameters (ie., API request URL) to identify a subset of the data
The bearer token is required for all API calls. To generate a token go to the Generate Access Token method on our API documentation, enter your IIR user credentials and desired Token Lifetime, and click TRY. If successful you will get a response similar to this:
The token can be found by clicking the "Response Headers" tab and copying the text after "authorization: Bearer ", as highlighted in the adjacent image.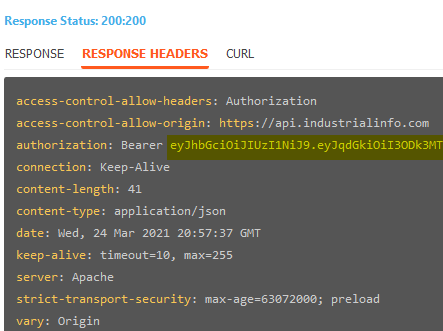 Note
The IIR API does not support token lifetimes of more than 30 days. Tableau will cache results and prevent you from suddenly having a blank report, but if you need it to always be up-to-date you'll need to keep that token current. Make sure that you have a plan in place to update the access token on a monthly basis.